I love hunting out new, fun blogs, and WordPress makes it exceptionally easy.  (Hint: if you are a blogger, use tags so people like me can find you!)  Here are a few I think are really worth checking out:

Macon's Run or Dye – Hodgepodge Pilot's Wife: A fun review of the Macon 5k Run or Dye with pictures included.
Body Positivity – Get Busy Living Healthy: A touching post about the importance of loving oneself.
Easy Butternut Squash Indian Stir Fry – Mijo Recipes: Fall squash recipes are my faaaaaavorite.
The Importance of Strength Training – A Runner's Enduring Excursion: A really fantastic review of why runners MUST also strength train.  I am bookmarking this one.
Sexy Shoulders Resistance Workout for Women – Grit by Brit: If you don't follow this blog, start following.  She will kick your butt into the shape you want it to be.
Create a Workout Routine You'll Stick To – Pursuit of Healthiness: Good quality tips on creating a workout routine you want to keep.
Strategies to Propel Yourself to Exercise – Toronto Fitness Trainer: A list of ways to help you lace up the sneakers and get to work.
Featured on today's post?  Feel free to grab the button below either by saving the image or copying and pasting the code below.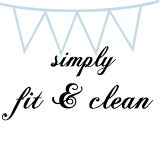 Be sure to subscribe to the blog and follow me on Twitter and Pinterest!