Clean eating recipes for the holidays are a great addition to your menu if you are hoping to avoid the extra winter weight this year.  Healthy New Year's resolutions are easier to keep if they don't have to start with, "Lose the five pounds I put on over the last six weeks."  Don't get me wrong, I eat my fair share of buttery white bread rolls over Thanksgiving and Christmas, but just a few healthy substitutes can make a big difference!  If you enjoy clean eating normally, eating tons of food made with cream, butter, oil, and sugar can wreak havoc on your digestion, so opting for clean eating recipes can aid in minimizing post-Turkey day bloat.
If you are looking for low-sodium recipes for the holidays, visit LowSodiumHQ.com for the Thanksgiving Recipe Roundup. 
APPETIZERS
Appetizers are always an issue for me, mindlessly eating whatever is on the plate while chatting with friends and family.  Instead of apps heavy in cream cheese, sour cream, or sugar, stick with fresh fruits and vegetables and make smart replacements in your favorite recipes.
Homemade Hummus by InTruBeauty
Deviled Eggs without Mayo by Sensibly Fit 
TURKEY
The main staple of the American Thanksgiving (which often reappears at Christmas,) isn't too big of a culprit in terms of calories.  To lighten it up, opt for a recipe that skips drowning the bird in butter or oil, and try a dry rub.  Looking for even fewer calories?  Remove the skin after cooking.  If you're intimidated by cooking a turkey, a good roasting pan will help.
Herb Roasted Turkey  by Architecture of a Mom
Organic Herb Roasted Turkey  by Yummly
PORK
Processed meats like ham and bacon are not considered clean eating friendly.  If your family prefers pork for their holiday feast, rather than a brown-sugar coated, spiral cut ham, try a pork roast.  Cheaper, healthier, and delicious.
Herb-Grilled Pork Tenderloin  by The Gracious Pantry 
Roasted Pork Tenderloin by He and She Eat Clean 
BREAD
I love bread rolls with holiday meals.  Since breads are often a big calorie contributor, I know I should be saying to skip them, but to me a holiday isn't a holiday without a basket of warm bread.  To clean up this add-on, choose whole grain bread instead of white and be kind to your body by limiting your portions.
Light & Fluffy Whole Grain Bread & Buns by Kitchen Parade
Quick Whole Grain Oat Rolls by The View from Great Island 
SWEET POTATOES
Step away from the mini marshmallows!  Sweet potatoes don't need to be overdone or overdressed to be delicious.  I have a whole post full of recipes here with ten options to choose from, but I'll add two more links here that weren't in my other post.  Making a simple sweet potato chip, fry, or mash is easier than the casserole anyway. (I am kind of obsessed with clean eating recipes for sweet potatoes.)
Roasted Sweet Potatoes with Honey and Cinnamon by My Kitchen College
Sweet Potato Mash by Gluten Free Spinner
VEGETABLES
Just say no to green bean casseroles made from a can and smothered in cream.  Keep your vegetables and salads simple.  It's cleaner, and it's just plain delicious.
Mustard Green Beans by Gen Y Foodie
Rockin Lean Bean Casserole by Hungry Girl 
Clean Eating Arugula Salad by The Gracious Pantry 
DESSERTS
Dessert.  Sigh.  I think the whole reason we celebrate holidays as a human race is to have a good reason to make a dessert.  All those calories can quickly sabotage a good day, so consider healthiER options this year.  Really, nothing that's classified as a dessert is going to be straight up healthy, but isn't that what classifies it as a dessert?
Paleo Pumpkin Cream Cheese Balls by Clean Eating with a Dirty Mind
Clean Eating Sweet Potato Pie by Whole Foods New Body 
Fruit and Yogurt Parfait by The Naked Kitchen 
Lazy Pumpkin Pie  by Muscle Mayu
A big component of fighting off the holiday doldrums that come from spiking blood sugar and over indulgence?  Get out and move!  Plan a fun activity for your family and friends like a football game, a turkey trot, or just a nice walk sometime during the day. You're just steps away from better fitness.
Feel free to grab the button below either by saving the image or copying and pasting the code below.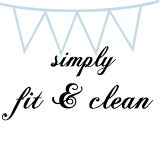 Be sure to subscribe to the blog and follow me on Twitter and Pinterest for more clean eating recipes.