Holiday weight gain is not my favorite thing to think about.  The holidays are fast approaching, and if you're in the States or Canada that means you've probably had a head start with Halloween candy.  It's such a tricky balance, spending time with loved ones and not completely sabotaging your body.
I don't want to be the person who drinks a smoothie for Thanksgiving, but I also want to maintain what I've worked hard to earn.  Here are a few tips I put together to help avoid holiday weight gain.
1)Make smart food choices
I recently blogged about making healthy holiday recipe swaps, and following that advice will really help curb all the extra pounds especially when considering leftovers.  Example: A slice of pecan pie is nearly 550 calories (ouch.)  Chocolate Covered Katie makes a crustless pumpkin pie that is only 55 calories (and delicious, like all of her recipes.)  Eating a slice of pecan pie isn't the best health choice, but just one slice isn't the end of the world.
But how realistic is it to assume that you will only eat one slice with no leftovers tempting you from the fridge?  One slice of pecan pie a day for the four days from Thanksgiving through the weekend is a total of 2200 calories, whereas one slice per day of Katie's pie is only 220.  Stretch that over several recipes and you can make a huge difference in the battle against holiday weight gain.
2) Plan group activities that get you moving
Unless every member of your visiting family or group of friends is a fitness nut, you might be hard pressed to get time to go to the gym or do a workout DVD (especially if you're the guest in someone else's home.)  I don't want to sacrifice time with family for a dress size, but I don't have to if I can do both at once.
Try a game of football, a fun run (organized or on your own,) a hike if the weather is good, or a snowball fight.  Getting your heart rate up even through a non-traditional activity can help boost your metabolism for the rest of the day and keep you in good cardio shape for when your guests leave town.
3) Wearable tech
I have an Up Band, and for someone like me who loves data it's a fantastic way to make sure that even on busy days I am moving as much as I think I am.  It's a bit of forced accountability when you otherwise might not be paying attention.  The FitBit Force (affiliate link) is another gorgeous option.  If you are wary of buying yourself a gift before Christmas, there are pedometer apps and other free fitness tracker apps or websites, like MyFitnessPal.com 
4) Walk after meals
This is good advice for whatever time of year.  Walking after a meal can help aid digestion, regulate blood sugar spikes, and your mood, all while burning a few calories!  If the weather allows, a 15-20 walk after a meal is a really good way to help fight off holiday weight gain.
5) Get enough sleep 
Whenever I go home to California for any period of time I find myself staying up until 2 or 3 in the morning laughing with family only to have to wake at 6 with kids who aren't adjusted to the different time zone.  I'm not going to miss out on great memories by going to bed at 8 every night, but it's better to plan what nights you can stay up and work in a nap the next day.
Poor sleeping is directly related to weight gain and body fat, often because we tend to snack more when sleepy.  Be kind to your body by getting the rest you need.
6) Moderation
As a health and fitness blogger I am probably not to supposed to tell you that it's okay to have a piece of pie or a fun holiday cocktail, but that's what I'm going to tell you.  Occasional indulgence is good for your sanity, and I find it much easier to maintain a healthy lifestyle of clean eating and exercise if I don't feel like I'm depriving myself of good food and fulfilling life experiences.
Just don't overdo it.  If you are lucky and have an aunt like mine who makes a ridiculously good pumpkin cream cheese roll, have a slice when she's in town!  Don't have twelve slices.  Life is all about happy mediums.
Be sure to subscribe to the blog and follow me on Twitter and Pinterest!
Feel free to grab the button below either by saving the image or copying and pasting the code below.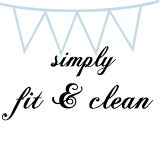 Resources