Still have a pile of turkey and are looking for a turkey leftover recipe that doesn't involve the words "make it a sandwich? Try a clean Black Bean Turkey Tostada.

I took my inspiration from the local HEB (a grocery store chain if you're not from Texas,) and lightened it up a little, replacing a heavy sauce with pico de gallo and switching pinto beans for the superfood, black beans.  If you want to turn these into a street-style taco, opt for plain corn tortillas that are un-baked.  Swapping in flour tortillas takes the "clean" part out of the recipe.

Ingredients: 
8 baked tostadas
2 cups chopped, cooked turkey meat
1 can refried black beans
1 small avocado
1 cup chopped iceberg lettuce
1/2 cup fresh pico de gallo salsa
8 oz plain, non-fat greek yogurt
Preparation:
Heat turkey and black beans and divide ingredients into 8 servings.  Layer all ingredients on tostada shell, starting with a smear of black beans.  (Refried is just easier in terms of getting ingredients to stick together.)  Next add turkey, then slices of avocado, lettuce, pico de gallo, and top with greek yogurt.  I like to add a splash of Tapatio hot sauce and some fresh cilantro, but that's my preference.  Adapt however you like!
MyFitnessPal gave me these nutritious facts, so substitute where needed to fit your nutritional needs.  For example, using low-sodium black beans and blending them yourself saves over 100 grams of sodium per serving.

This recipe is also great with chicken!
Feel free to grab the button below either by saving the image or copying and pasting the code below.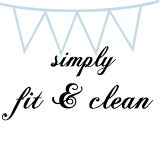 Be sure to subscribe to the blog (either at the bottom of this post or up on the right hand menu) and follow me on Twitter and Pinterest!