I've mentioned a few times that I've been planning to do a holiday giveaway, and I thought what better time to do it than on Giving Tuesday!  It may be a new marketing tool by non-profits and charities to try to capture some of the money we spend on Black Friday and Cyber Monday, but I can get behind Giving Tuesday if it means opening our wallets to help others. I'm excited to announce that for this sweepstakes Simply Fit & Clean will be giving away a product from my affiliates at Fitbit, the FitBit Zip!
The FitBit Zip is a great way to get into the wearable tech trend taking over the fitness world.  If you have one already or are shopping for someone who wants one, a Zip makes a great Christmas gift (as do the rest of the products in the FitBit lineup.)
Meet Zip™. Get fit. Have fun.

ZIP™ WIRELESS ACTIVITY TRACKER

Get a kick out of fitness with this little device. It tracks your steps, distance, and calories burned – and syncs those stats to your computer and select smartphones. In doing so, it celebrates how much more you do each day. Zip™ encourages you to set goals, challenge friends, and go farther – one step at time. That's how you turn everyday life into a social, achievable, awesome path to fitness.*
*Description from FitBit. 
HOW TO ENTER: 
Required to Enter: Subscribe to Simply Fit & Clean Newsletter
Additional Entries: Like Simply Fit & Clean on Facebook, Follow me on Pinterest, Follow me on Twitter, Tweet this Giveaway, Pin this Giveaway, Subscribe to SF&C's RSS, and Blog about this Giveaway
Contest begins Tuesday December 3rd at 4pm CST and ends at December 10th at midnight
Shipping to US addresses only, must be 18 or older, void where prohibited.
GIVING TUESDAY: 
I wanted to take a moment to add links to my favorite charities, Autism Speaks and Donors Choose, if you are looking for somewhere to direct your charitable contributions today.  (I am not affiliated with these organizations.  I just support their efforts.)

If you are blogging about the giveaway, feel free to grab the button below either by saving the image or copying and pasting the code below.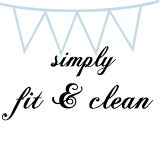 First time here?  Feel free to browse or check out my most popular posts here:
Healthy Recipes: Chicken Breast, Five Variations
What You Might Not Know About Training for a Half Marathon
Superfoods: 10 Sweet Potato Recipes
The Ultimate Gift Guide for Runners