With just two weeks left until Christmas, I put together a
guide
of 
fitness gifts 
aimed specifically at technology lovers.  Save yourself the worry about arrival time and ship these gifts straight to the recipient.  Click on a picture to be directed to an affiliate site where the item can be purchased.  I've broken the list into five parts: 
Music, Wearable, Trackers,Outdoors
, &
For the Home
.  If you are the athlete looking for some fun new gear for Christmas, be sure to Tweet,
Share
, or Pin this page to drop a heavy-handed hint!
MUSIC
From gym rats to long-distance cyclists, access to music, podcasts, or audiobooks is often essential to helping push through long hours of training or pump up to finish the next set.
BlueTooth Headphones: To get cords out of the way.  I like this pair by Avantree because there are music controls on the ear piece, and they are water (read: sweat) resistant.
Quality Headphones/Earbuds: If the athlete prefers music from a source not bluetooth enabled (or doesn't want to worry about running out of battery charge,) these earbuds by SoundSoul are a good option.
Waterproof Music System: For the athlete who loves to swim or is training for a triathlon, an underwater music player is a fantastic gift.  I've looked around and not found one better reviewed than the a waterproofed iPod shuffle.  Models with waterproof earbuds also available.  (Every other model seems to suffer from poor software that is incompatible with the music you already have.)
iPod Nano: For athletes who want the choice between music, podcasts, and audiobooks but aren't interested in storing everything on their phones, an iPod Nano is a good, lightweight option for a variety of types of sports, indoors or out. 
WEARABLE
Wearable technology is a hot gift item in 2013 for all levels of fitness.  There are lots of competitors in this market, and each has its own look, features, and usually accompanying apps. 
FitBit Force: The top of the FitBit line, the Force has the benefits of wireless syncing and real-time tracking.
inColor Digital Pedometer: A big, sexy step up from the free pedometers handed out in company gift bags but just as easy to use.  Comes with a detachable clip.
GPS Watch w/ Heart Rate Monitor: In the world of GPS watches, Garmin is the biggest, most trusted name.  The 110 is a good watch in the middle of their range. Features your athlete wants without getting too spendy.  Buy the package with the included heart rate monitor.
Heart Rate Monitor: Heart rate monitors without the GPS addition are geared more for indoor athletes, either at the gym or working out at home.  If Garmin is the name in GPS, Polar is the name in HRM.  The FT4 is a mid-range (highly beloved) monitor.  Options with more or fewer features are available as well.
Up by Jawbone:  In the same category as the FitBit, the Up aims to be a more attractive alternative, offering multiple colors and sizes, with simple operation.  This is what I wear, and I really like their recently updated app.
TRACKERS
Long term fitness goals are easier (and more fun) to achieve with a few bits of technology that measure more than just heart rate. 
Blood Pressure Monitor: Measuring and tracking blood pressure on your iPhone beats keeping track with pen and paper.
Fat Loss Analyzer:  While nothing beats a set of calipers, this little tool, about the size of an XBox controller, is a quick, easy way to get a measure of body fat.
Pulse Oximeter: Pulse Ox measurements are especially necessary for athletes training in high altitudes, mountain bikers, climbers, and hikers.
OUTDOORS
Outdoor athletes have a whole array of fun fitness tech to choose from tailored to their specialty. 
Weather Meter: The type of outdoorsmen who even know what to do with the amount of data provided by a pocket weather meter are in an entirely different league than an occasional camper like myself.  These devices are invaluable to hunters, hikers, climbers, mountaineers, outdoor adventurers, spelunkers, etc.  This model by Kestrel is the top of the line with Bluetooth and Night Vision and is used by military snipers to calculate things like crosswind.
 Outdoor Watch: Not just a "water resistant to 3m" plastic watch, a REAL outdoor watch meant real outdoor adventurers.  This model by Suunto, on top of being flat out cool looking, is an altimeter, barometer, compass, depth meter, thermometer, and bells-and-whistles watch.  Their $600 model includes GPS and heart rate as well.
Outdoor Video Camera: These cameras are designed to be easy to use, light to wear, and durable.  Snowboarders wear them on their helmets, skaters attach them to their boards, and cyclists strap them to their handlebars.  GoPro is the name in this market and has adapters to mount these camera just about anywhere for any sport, including diving housing.
Solar Panel: Portable solar charging kits have gotten more affordable recently, making it possible for your outdoor athlete to keep taking amazing photographs of her hike without worrying about her camera battery.  Also incredibly useful in emergency situations.
Heavy Duty Phone Case: If you are tired of paying to have a smartphone fixed or replaced over and over because it got wet or dropped or full of sand, I can't recommend a LifeProof case highly enough.  Heavy on protection, light on bulk.  (And sorry, Amazon, but too many forfeit phone cases are sold there, so please purchase your phone case from another retail outlet.)
FOR THE HOME
Not all the good technology has to fit in your pocket.
Digital Food Scale: If your athlete has visible abs (or is working to get them), there is a pretty good chance he pays close attention to what he eats and measures portions.  A digital scale is useful and looks pretty in the kitchen.
High Quality Blender: For athletes who drink a lot of smoothies and/or protein shakes, a good quality blender is irreplaceable.  Funny enough, there is a bitter Capulet-Montague blood feud between which of the top of the line blenders is best: Vitamix or Blentec.  I'll link them both so no one threatens my life.
Body Fat Scale: A big improvement on the $15 scale I've had for 10 years.  The Withings Smart Body Analyzer is full of so much pretty and measures fat and muscle mass, not just weight.
Treadmill: There are few athletes who don't spend at least some of their training time on a treadmill.  *Hint: I want one.*  Why order a treadmill from somewhere like Amazon?  Two words: Free Shipping.  I usually link ProForm, the leading name in home fitness equipment, but for $300 cheaper this model by Horizon comes with fantastic reviews and built in speakers.
See a product you want someone to get you for Christmas?  Share this page so word gets out.  Wish there were another product on this list?  Mention it in the comments.
Be sure to subscribe to the blog, like the Facebook page, and follow me on Twitter and Pinterest!
Feel free to grab the button below either by saving the image or copying and pasting the code below.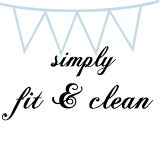 *Disclaimer: Most of the products are linked through Simply Fit & Clean affiliate programs, but no company paid to have their product featured here.*